This knowledge base article shows you how to replace the CLS621 ribbon and winding core within the thermal number plate printer. Below is the method for installing our approved ribbons, which are outside wound or ink out ribbons.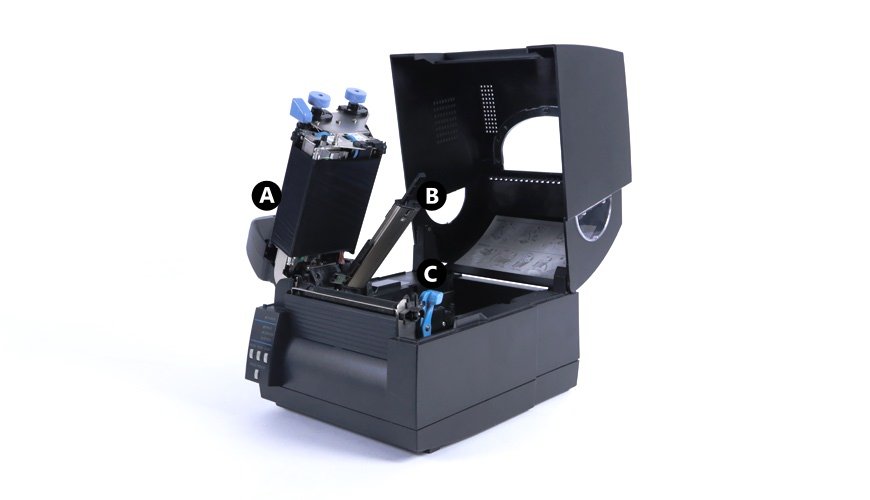 Lift up the printers top cover and raise up the print unit (A) by pushing the blue lever (C). Remove any used ribbons by taking the holders off the print unit and stripping them out the cores. To remove the holders, simply lift the end with blue knobs up out their cradles and then pull the other end off the notches. Save the plastic ribbon holders and a paper core if you don't have a replacement.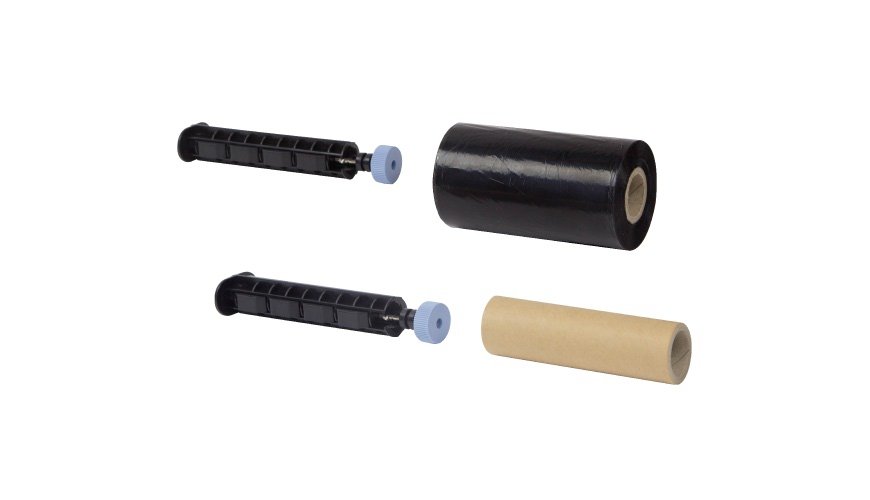 Now swap the used ribbon for a new one. One of the holders needs to be fully inserted into the ribbon and one into a paper winding core. The ribbon will need to run from the top, backwards. The plastic holders have a blue knob on one end and a hole on the other. Along their length is a series of splines which engage with the paper cores and hold them in place.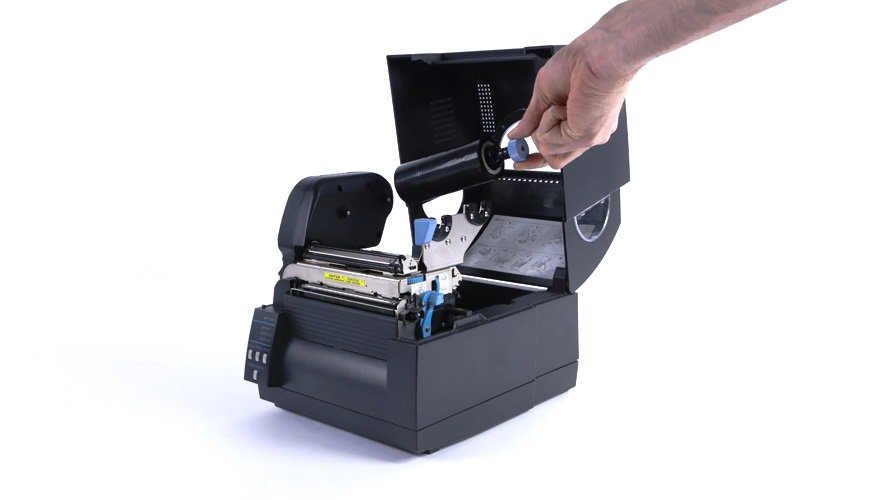 Load up the new ribbon and its holder into the rear drive on the print unit, the front drive is for winding. Line up the end with the hole, with the notch on the print unit. Push it onto the notch and then push the other side down into the black plastic cradle. Next you need to attach the ribbon to the winding core and then fit it into the print unit.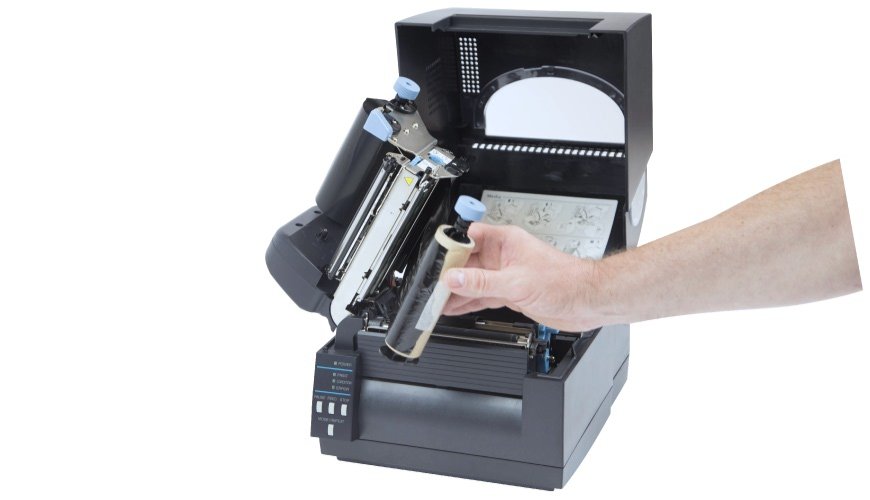 Pull out some of the new ribbon and pull it back, down and through to the winding side. Using some adhesive tape, stick the ribbon onto the paper winding core. Try to keep the ribbon smooth and wrinkle free, then fit it into the rear drive. Like the ribbon holder line up the notch and hole, then push the other side down into the black cradle. Ensure you are using the same ribbon path as shown in the image below.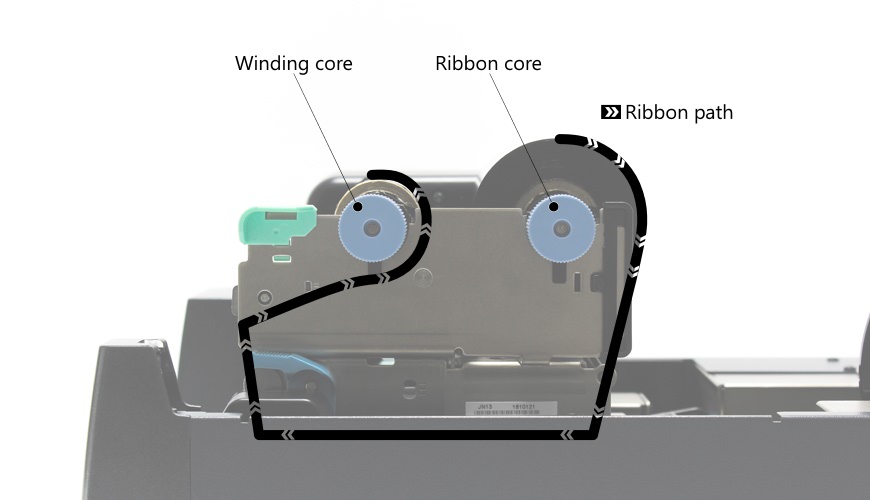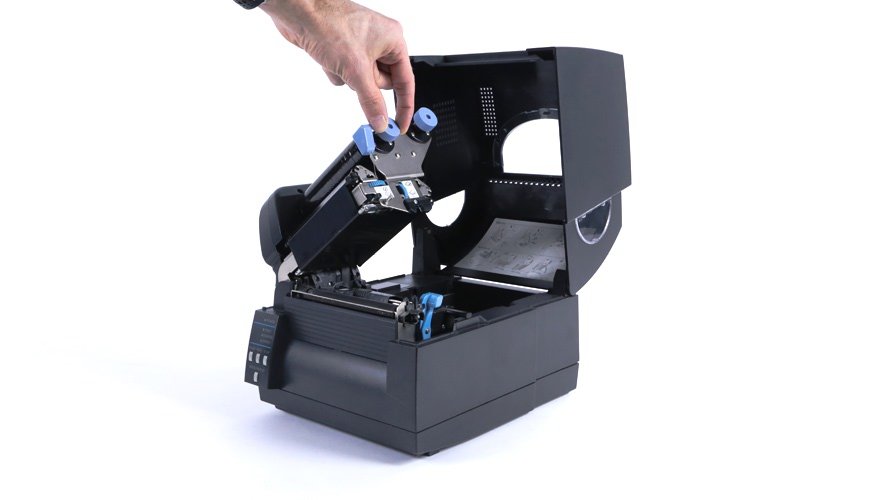 Once the ribbon and winding core are fitted, any wrinkles on the ribbon will need smoothing out. Start with the winding side and rotate the blue knob backwards and forwards, jiggling it to remove any slack and wrinkles from the exposed ribbon. Repeat with the ribbon side if required until all wrinkles have gone.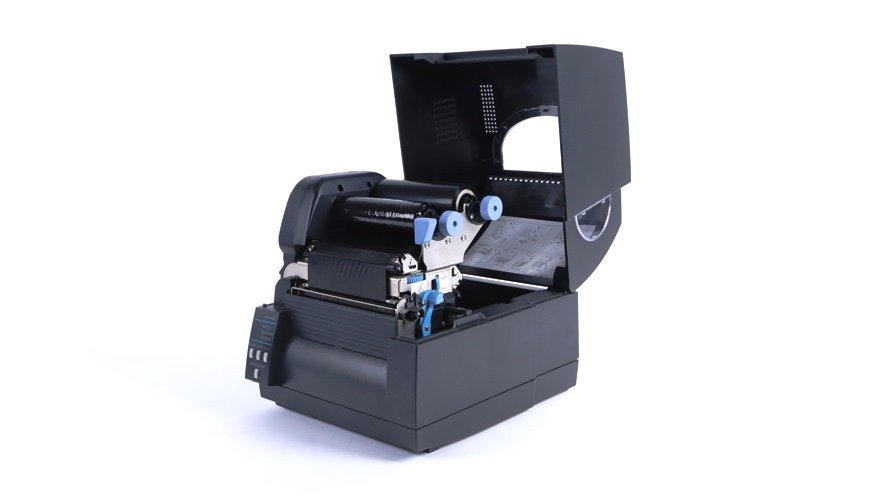 Lower the print unit and ribbon, pushing the blue side knob to lock it into place. Power up the printer and push the feed key on the control panel to tighten up the ribbon. If required perform ribbon tension adjustment and any media width alignment adjustments. We recommend you fit or replace ribbons before loading the printer with new rolls.
If you need further assistance contact our customer service team for help.