The 9541 Control Panel
This knowledge base article shows the 9541 Control Panel and highlights its layout, functions and all its button positions. It can be found on the front of the machine, as shown on this overview article of the printer. For further information on any individual features or actual operational instructions, consult your user guide or the manufacturers website.
Control Panel Layout
A: Display Screen – Shows status and menu options
B: Help – Toggles printer help guides
C: Back button – Returns to previous screen/menu option
D: OK – Sets or selects a menu item
E: Power Save – Toggles economy mode
F: Attention – LED lights up to indicate an issue
G: Option Controls – Cycle up and down options
H: Online – Toggles online or offline status
I: Keyboard – Keypad with numbers or alphabet characters
J: Cancel – Stops current job or quits a menu
Printer Errors & Help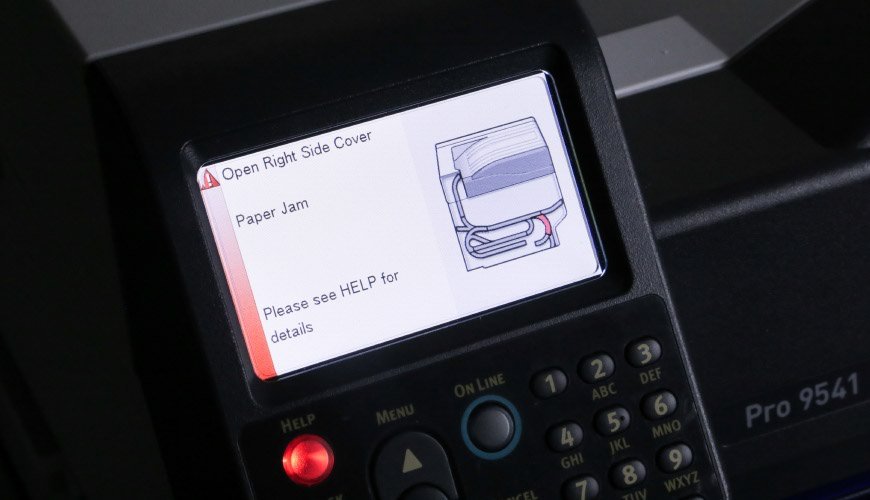 When a problem is detected the attention LED on the control panel will light up to attract you to the issue. When its a major error, it will blink continuously until fixed. The display screen will also indicate what type of error it is, and provide a help guide – as in the image above. For information on troubleshooting common errors, check out our 9541 Printer Errors article.
Need Help
For more detailed instructions, try your printers user guide. Or if you need further assistance contact our customer service team for help. As part of your supply agreement with us, you can order replacement components & consumables on demand – lead times apply.