Tennants receives Oralite Master Distributor status for the UK
We are proud to announce we're the Oralite Master Distributor for the UK. This status reflects the success we've had using & promoting their fantastic materials. And we are very pleased to receive the certification confirming our new status.
Below you can see a picture of our MD being presented with our Certificate. Which was presented during a visit to the UK by two directors from Orafol.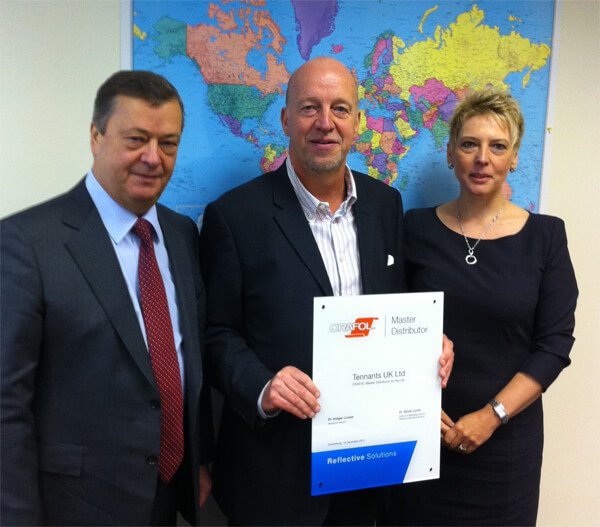 Presenting Master Distributor Status
Dr. Holger Loclair, Managing Director, ORAFOL Europe GmbH
Jez Curtis, Managing Director, Tennants UK Ltd.
Dr. Sylvia Lucht, Sales and Marketing Director, Reflective Solutions Div, ORAFOL Europe GmbH
"We are very proud to award Tennants UK Ltd. the title of ORAFOL Master Distributor for the ORAFOL line of reflective products in the UK,

Since 2007, Tennants has successfully distributed and promoted our range to the UK market. From their head office in Nottingham they offer an outstanding service to the UK market for reflective materials from ORAFOL. It is largely because of the great work done by Tennants UK over the past 7 years that the ORAFOL brand is today so strong in the UK.

Dr. Sylvia Lucht

Sales and Marketing Director for the Reflective Solutions Division of ORAFOL
Our Reflective Solutions
We chose to use Oralite because it offers an unrivalled balance of price and performance. Not to mention a quality you can compare to anything else on the market.
As the Oralite Master Distributor, we stock a huge range of materials. Which includes a complete range of certified traffic sign films from RA1 to R3C. And work zone tapes and sheeting approved for adding to safety equipment.
So if you make signs, manage traffic or provide utility vehicles, we can match your needs. Because not only can we provide a more competitive edge on UK pricing. But we also offer a more assured supply, thanks to the backing from Orafol.
Tennants – Your Guiding Light
Switch to Oralite for reflective solutions that suit your workflow and are cost-effective. Alongside providing full rolls of material, we also slit, sheet and cut to order. If you have any further questions please contact our sales team. And discuss the quality of choice that Tennants and Oralite offers.