Number plate suppliers will soon find themselves with a new sales opportunity, thanks to the international trailer plate scheme. For this new scheme is a service used to certify trailers for use, that requires owners to purchase another plate.
Why is the scheme being introduced?
In short, the scheme is being introduced because the UK has ratified laws used to govern the use of trailers. The law address many legal issues faced when using trailers abroad. Yet it also increases road safety by checking the trailers actually allowed onto the roads.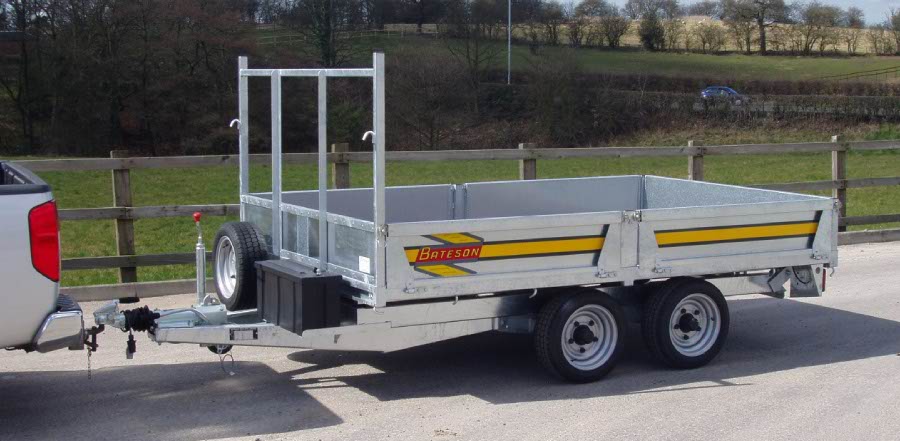 Who's affected by the new law?
Registration is mandatory for all trailers used internationally that are:
Commercial and weigh over 750kg (Gross)
Non-Commercial and weigh over 3500kg (Gross)
Enforcement starts from the 28th March 2019 after Brexit, and any affected trailers will need to have a separate plate displayed before they can be driven abroad. Owners will also need to be able to show the registration certificate to a foreign authorities on request.
It's estimated this change will affect over 200,000 trailer owners in the UK alone.
What happens if the UK leaves the EU without a deal?
If the UK leaves the EU without a deal, some countries may also require a separate Green Card as proof of insurance. So owners travelling abroad with a trailer, will also need to get 2 green cards. One for the towing vehicle, and one for the trailer, although this won't require separate insurance.
The Trailer Plate
To summarise, the new trailer plates resemble a motorcycle number plate. But with a registration mark of 1 letter and 7 numbers. The mark is grouped as one letter and three numbers followed by a group of four numbers on another line.
What will the Trailer Plate look like?
Trailer plates have the registration in 64mm high characters in a solid black colour, placed onto a white background. Yet unlike number plates, the supplier ID and BS number aren't mandatory.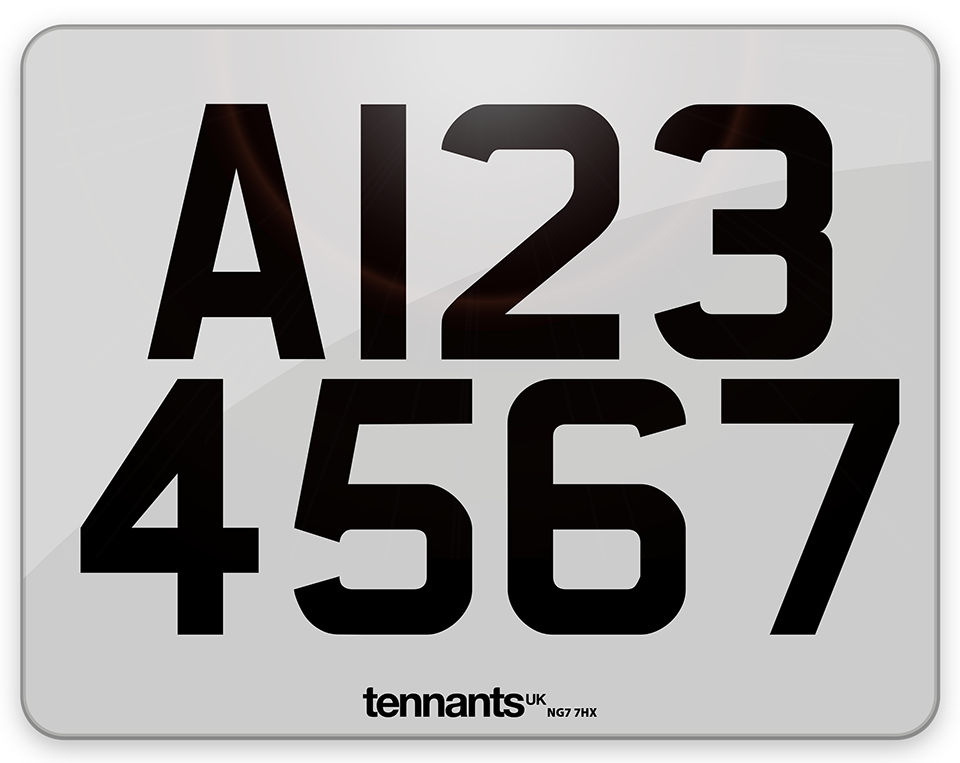 It should be fitted to the rear of the trailer, as far away as possible from the towing vehicle registration plate. If it won't fit on the rear of the trailer, then trailer plates must be fixed to both sides. Meaning two plates must be bought and displayed.
Supplying Trailer Plates
Existing Tennants Customers
If you're an existing number plate customer, you'll need a small software update before you can produce trailer plates. Once the update is applied to LG Plates, you'll have a new template size with the correct format. But you'll need to be using a printer that can make 9×7 inch plates.
We already stock the plate components used to make them, for either standard or hybrid plates.
Made Up Trailer Plates
Don't worry if you can only produce standard oblong plates, we offer Trailer Plates as part of our Made Up Plates service. All you'll need to do is register for a trade account, then you can order them on demand.
Trailer Owners: What you need to do
Registration Fees
As of 14/12/18, it costs £26 to register a trailer for the first time. Afterwards you'll receive a Trailer Registration Number and a Trailer Number Plate Authorisation Certificate (eV948/2). Both these documents, along with some proof of your identification is needed to purchase an actual trailer plate.
Where can I buy a trailer plate?
Second thing you need to do, is buy the plates for your trailer. If you need help with this, please email us at sales@tennantsuk.com with your Postcode and we will find you your nearest legal supplier. Don't forget to take your trailer plate documents and proof of identity with you.
Trailer Dealerships: How can we Help?
Because of these new changes, you may decide the time is right to start making your own plates. Our number plate printing equipment is among the most cost effective on the market. And can be tailored to fit any business needs.
In contrast, our made up plates service delivers plates on demand, including trailer plates. All without the cost of buying equipment and training staff. Making it the perfect way to outsource your plate production.
Find out More
Get in touch now and find out how our solutions can work for your business over The International Trailer Plate Scheme. Either call us on 0115 9738084 or email sales@tennantsuk.com. Otherwise, use the the quick contact form and fill in your contact and inquiry details.