We now have the Ridgeback Speed Ramp from JSP in stock to buy. You can order it in bulk or as part of a larger TM Supplies package. Because it's the most adaptable and durable speed ramp on the market, it's incredibly effective. And its distinctive design reduces vehicle speeds and improves safety wherever you install one.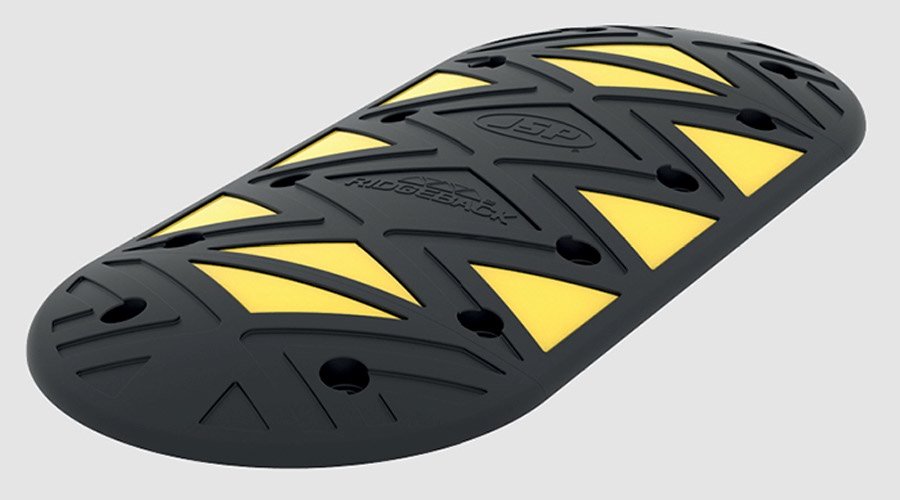 The JSP Ridgeback Speed Ramp
The Ridgeback has multiple features that improve its performance. Starting with the angle of its retro-reflective elements, which optimise and increase its visibility. Thanks to the glass bead material that's distributed across a wider area compared to traditional ramps. Made from a high performance polymer technology and conforming to requirements of BS EN 1436:2018 and BS EN 1824:201, this speed ramp is perfect for tough conditions.
The Ridgeback Speed Ramp uses a clever interlocking system for easy connectivity. Which makes your ramp assembly on-site a piece of cake. JSP have also placed a handy channel under both of the end caps for cables and hoses. To protect them from damage by heavy plant and your sites' traffic.
Of course we can supply it in multiple options or sizes. With configurations that aim to reduce vehicle speed to 5 or 10mph respectively. As can be seen, we now supply the country's best speed ramp solution.
Get in touch with our Highways Equipment division for details and pricing.