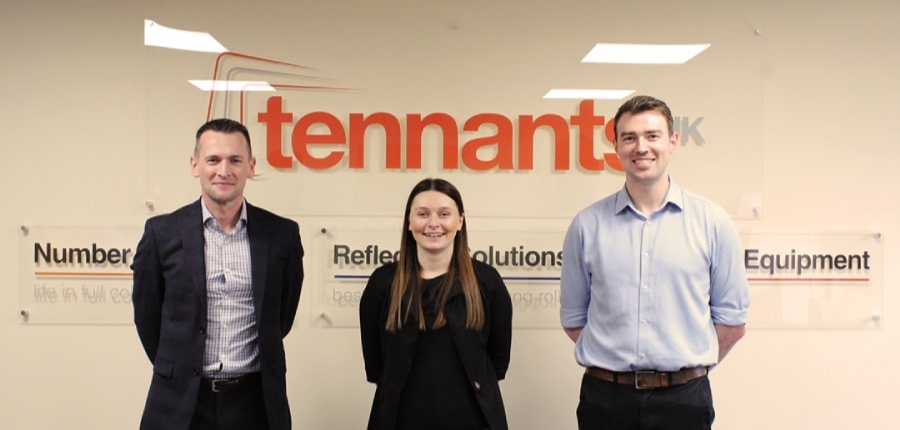 There's been a few changes at senior management level here at Tennants in recent months, so it's worth making some formal introductions.
Featuring a mix of trusted old guard mainstays such as Grant – now our Group Sales Director – and the appointment of some significant young blood in the likes of Chantelle (Company Accountant) and Tom (Operations Director) means we face the future with confidence and development plans appropriate for the size of organisation we now are after years of continual growth. With our company logotype being orange, a new corporate tagline of, "the future's bright, the future's orange," suggests itself, but we understand that it's already been taken.
Grant:
Graduating from Leicester DeMontfort University with a BA Hons degree in Business Studies and Marketing, Grant started working at Tennants in 1999 as an eager, fresh-faced marketing executive. The subsequent years have done nothing to dampen Grant's enthusiasm and his loyalty and huge contribution has been justifiably recognised with his appointment as our Group Sales Director at the end of 2021.
Chantelle:
Having started working life as an apprentice at the age of 16, Chantelle wasted no time in grabbing working life with both hands, resulting in her being AAT and ACCA Qualified. With a background in construction and civil engineering and a qualification in critical thinking, Chantelle has been with us at Tennants for almost 6 years and now takes care of our financial wellbeing in her position as Company Accountant.
Tom:
With a Mechanical Engineering Degree under his belt, Tom set about working life with no little relish and had soon amassed a significant amount of engineering and production experience in industries such as aerospace, mining and agriculture, plastics and rubber. A recent addition to our senior management team with his appointment as Operations Director, Tom will be one of the key figures taking Tennants into the future and even more success.