Now Brexit's done, a Star is Shorn from number plates with the loss of the Euro GB badge. So to help you order printed replacements, here's some options and pdf flyers with our part-codes.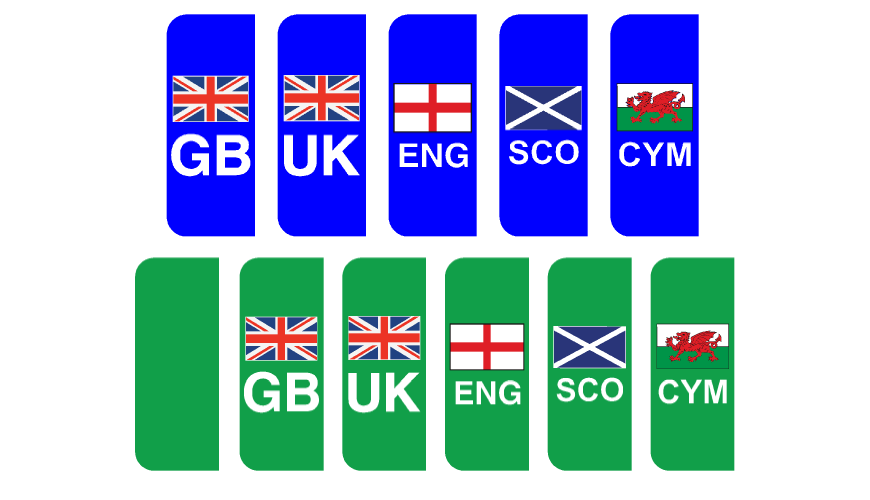 Goodbye Euro GB
Following on from the recent announcement that number plates displaying GB Euro side badges can no longer be fitted to vehicles in the UK. There has been some confusion regarding the range of legal alternatives. Specifically, the debate has centred on whether a GB text only design is permitted, without a national flag.
We have now received confirmation from the DVLA that GB Text can NOT be displayed on its own. Thus the proposed UK Overseas Badge, will take the place of the EURO stars. Then vehicles displaying the new badge wont need a UK Sticker as well.
Click the button below for a flyer with our legal side badge options. Hopefully it will help you order your pre-printed reflective media.
If you're a Customer who Prints Badges, you can request the blue badge artwork from Customer Services. Who will supply you with simple instructions on how to load the new images into your plates software. As a result of needing to be retroreflective, Green ZEV badges are only available pre-printed.
Driving In the EU
A word of advice to those planning foreign travel this year, to the European Union and beyond. Because the GB text on your number plate is no longer valid for driving abroad. And now you need to display a white Oval UK Sticker on your vehicle as well. Unless it has one of the new Overseas Travel Side Badges, which are coming soon.