When building a number plate or setting up a new template in our LG Plates software, you may wish to use a Bottom Line Logo instead of text. This knowledge base article provides a simple guide on how to do this in easy to follow steps.
A bottom line is a requirement of a legal number plate. To be standards compliant, they must be on the plate to identify who has made it. The BS number indicates the manufacturer of the plate components and the holder of the certification
The Plates Builder houses all the options and controls needed to design number plates. This includes those used to enter a company Logo. The options for setting up a logo are alongside those for the tag line. Clear any entry in the tag line field to avoid positioning issues. The picture below indicates the position of the logo options.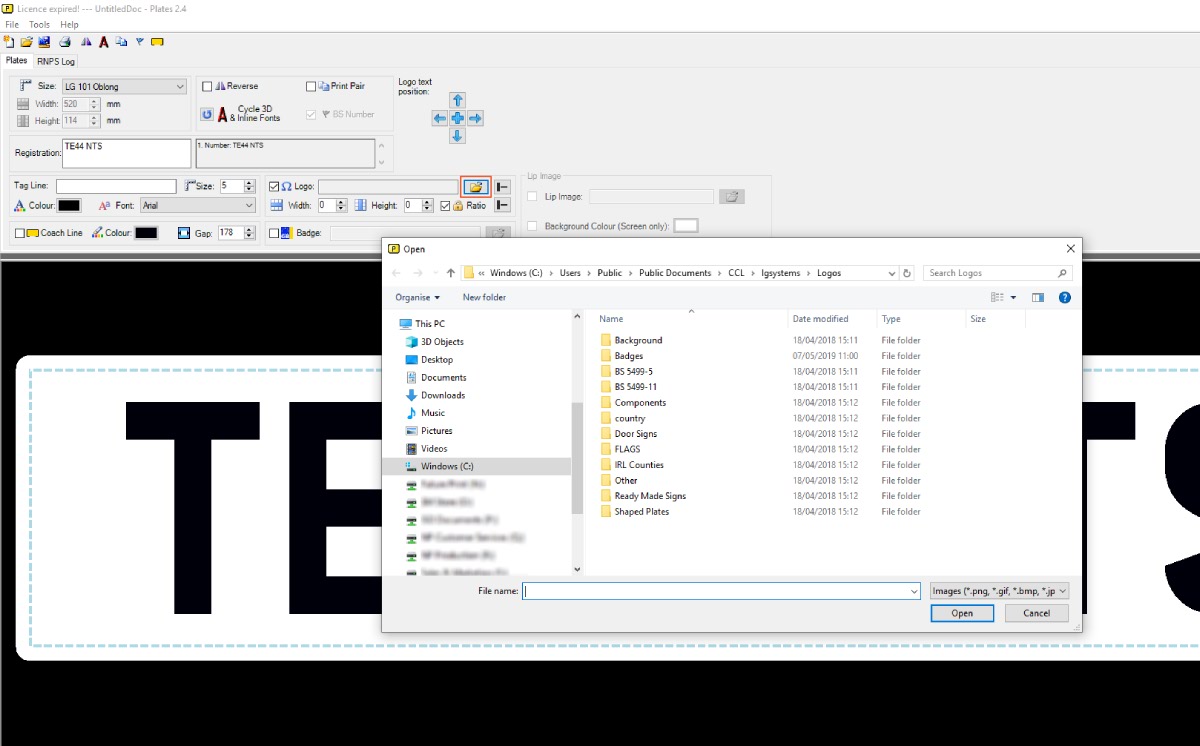 To insert a bottom line logo, first select the tick box and then click the Browse Folder. This will open up the module for you to browse and select an image to use. You should be able to look through all drives and devices connected to your PC or network. Find your logo and click the Open button, it should be placed into the plate design.


By default the logo will be aligned to the left. Click the horizontal or vertical boxes, indicated in the image above to re-position it. To help, tool-tips appear if you hover over the boxes. If your image is larger than regulations allow, use the width and height controls to adjust it.
Then when you're happy, move to setting up the next design element.
A bottom line logo must be no bigger than 178mm x 13mm, identical to the number plate rules for Tag Lines. This is so they don't interfere with the readability of the registration number. Logos must be include the suppliers name and postcode. A trade mark is allowed as long as the supplier is identifiable.



If you design the logo yourself ensure you save it as a PNG image with a transparent background. For a high quality print, we recommend the logo have a dots or pixel per inch of 150 to 300.