LG Plates Licence Activation
This article provides a simple LG Plates Licence Activation Guide, useful when you're renewing your number plate software for another year. Or installing and using it for the first time.
Before you can print a number plate design in our software, you will first need to complete the LG Plates Licence Activation process. Our software comes with a basic 12 months license by default, which needs activating before it can be fully used. So to activate it, you'll need to enter your licence key into it and then contact us for an activation code.
Note: LG software use is subject to a Software Licence Agreement.
The article below shows the process in easy to follow steps.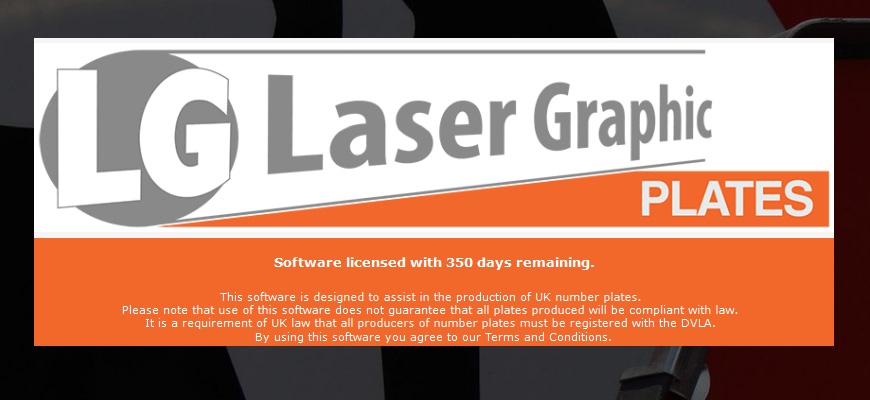 First start up your copy of LG Plates, double click the icon to start up the application. When no licence is found, the splash screen will indicate this and require closing before it proceeds to load the software. Once loaded up onto your desktop, the software will also display a little pop-up notice as well.
The plates software comes with a built in licence facility to deter misuse and piracy. To access this module you need to click Help on the File Menu and select the Licence command. This will launch the licencing module as a pop-up on your desktop.
On your screen should be a pop-up like that shown in the image above. The module contains 3 fields and three buttons. The first field is for your licence key, this is usually on the envelope the USB memory stick came in, check your documentation and find it. Enter your licence key as shown on the envelope into the empty Licence Key field.
The second field on the module holds your Computer ID. Before you can activate the software you'll need to contact us and quote this ID number. The Email Button will help you with this, pressing it will launch your default email client and fill it in with our address and your computer ID number. Just add a personal message before clicking send, we'll respond as soon as possible.
Alternatively or for a faster response, phone the quoted phone number but have your software open and ready. Ask for software activation and our customer service team will generate a code for you. Once you have an activation code, enter it into the empty bottom field and then press the Set Button to confirm it. Press OK to close down the licence module when you're finished.
You should now be able to save and print designs.
A standard LG Software licence lasts for 12 months and once expired will need renewing. So when prompted, contact our customer services for a new licence key. The renewal can be waived if you reach a minimum spend on components. In addition, renewal also requires exclusive use of our plate media, as per your supply agreement.
For further details check out your Software Licence Agreement. To renew your licence contact our customer service team for help