When designing a number plate or setting up a template in our LG Plates software, you may wish to configure it to produce Lipped Number Plates. This knowledge base article provides a simple guide on how to do this.
Lipped number plates are an easy way to market your brand using the number plates you supply. By having it located on an extra part of a number plate – the lip, the strict legal restrictions on plate layout don't apply to it.
The Plates Builder houses all the options and controls needed to design number plates. This includes those used to make lipped oblong, motorcycle and 4×4 plates. Notably the Size and the Lip Image options, the picture below indicates the position of these two options.


First pick a plate size, for lipped plates you'll need to select the Lipped Film or Reflective Sizes. These are Special Template Sizes that have specific layouts for making lipped plates. Choose the size which matches the media you will be printing onto, so pick lipped reflective for printing on reflective sheets.
Only the latest versions of our software have templates for lipped plates. For older versions, a software upgrade to the latest version will include this feature, plus many bug fixes. An alternate method, is to use a custom plate size and tweak the registration number so it fits above the lip.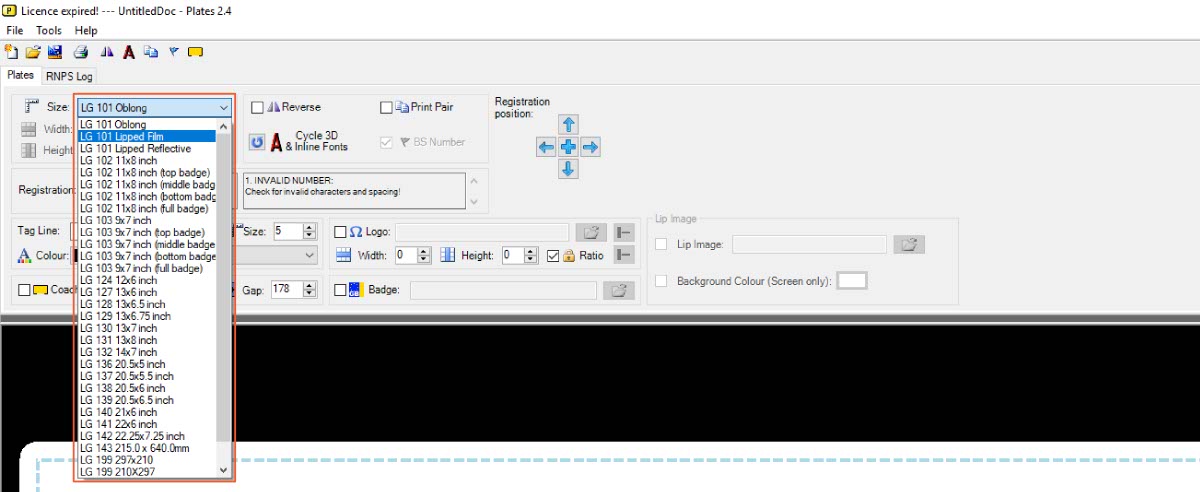 Once a lipped size is selected the preview design window below, will change to reflect your choice. The Lip Image options will also now become active, so you can load your lip into the plate design. The lip options are also active for custom plate sizes.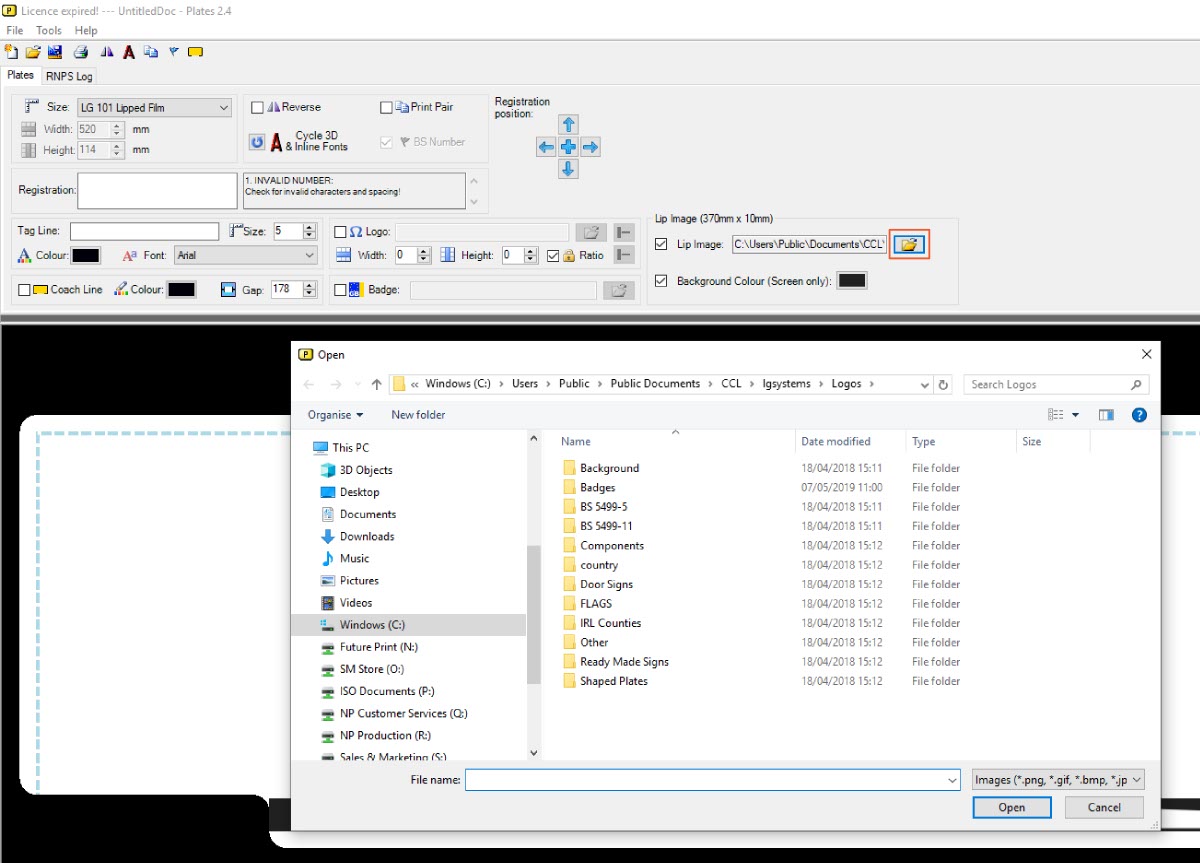 Secondly, you'll need to insert your individual lip design. So, Tick the Lip Image check box and then click the Browse Folder box. This will open up the browse module, look through the folder and find your Lip Image. Simply select it and then click the Open button, it should now be placed into the design. It may appear a bit pixelated on larger screens screens.
Help on designing a lip image can be found in the final section of this article.
Lastly, once you select an image for the lip, the template will also turn on the black Background Colour. This is so you can check its appearance more easily with its transparent background. Black is the default colour because that is what we use for our lipped plate components.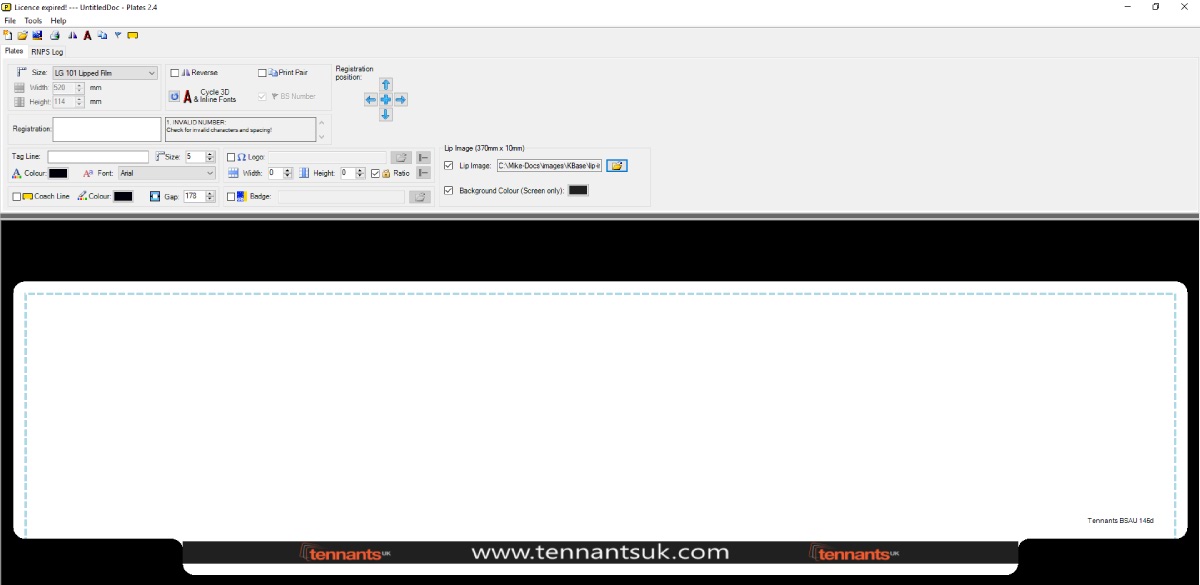 Clicking the Colour Box will launch a colour palette pop-up, so you to change it to a colour of your choice. The background colour is only used for the preview screen though, and will not be printed on the lip. Click and deselect the check box to turn it off.
Then when you're happy, move on to setting up the next design element or print out the plate.
When designing your Lip Image start with a 10mm high box, the width will depend on plate size. Our oblong template has room for a 370mm lip, motorcycle a 188mm lip and 4by4 plates a 200mm lip. This is the canvas for your lip design, everything has to fit into it.
Typically a lip will contain the phone number, email or website of the supplier, along with their logo using their brand colours. As you can see in the picture above, the lip image is positioned centrally within the lip. So you can use the full 10mm height of the box. Coming up with a lipped plate design is not difficult, but it might take a few goes before you are happy with the final printed result.

Note: Due to our config settings please Do Not use pure white in your design RGB 255, it will not be printed. Use RGB 250 instead or #FAFAFA a very light grey. Ensure you save it as a PNG image with a transparent background. For a high quality print use a dots or pixels per inch of 150 to 300.