OKI 9541 Printing Preferences
This knowledge base article shows you the 9541 Printing Preferences used for printing number plates on our clear film sheets. Use these settings as the default for your modified printer. Or select them when prompted to by our plates software. Click the images below to see them full size.
Printing Onto Film
Having the correct printer property settings is vital to your number plates legality. Because these settings not only set its default media source and orientation. But they also define the overall quality, colour and mode of each print. So to ensure your number plates comply with British Standards, only use the settings we provide.
The images below show the settings used to print number plates onto our clear film sheets. In brief, you should pay special attention to all the selected values.
Tab 1: Setup
The first tab called Setup, houses all the default printer settings. Such as which source to use for your plate media, which is the multi-purpose tray. But it also sets the print orientation, so registrations are printed along its length. Not to mention the colour settings, which is vital in ensuring your prints are the correct opacity.
Colour Settings
Here we have a screenshot of the Colour Settings. You access the colour settings by clicking the current color mode details button, found on the Setup tab. While much of the colour settings are handled by our firmware modifications. You'll still need to check your printer has these RGB and Composite Black settings selected.
Tab2: Job Options
Next up is the Job Options tab. Here you'll find the basic settings used to define print quality or dpi. As well as the job type and output location, which should be set to Stacker – face down.
Tab3: Spot Color
Last we come to the Spot Colour Settings. These options sets the order your number plate printer apply white toner and controls the data it uses. In addition adjustments are applied to the spot color toner settings – as shown below.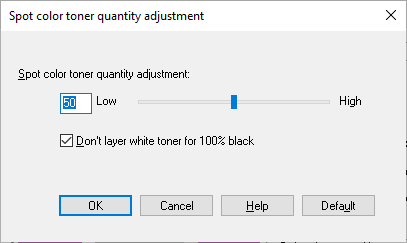 Spot Color Adjustment Settings
Three options are used to control your printers spot colour. These are usage methods, the order of superpostion and a special setting for mirror prints. As a result, these are vital to your printers ability to underprint for colour correction.
USAGE METHODS
Do Not Use: Print without white toner.
Full Page: Use white toner on whole printed pages.
Data Portion – No White: Using white toner in the data portions excluding the white portion.
Date Portion – Inc White: Using white toner in the data portions including the white portion.
Application Specification: Printing using white toner only
ORDER OF SUPERPOSITION
Print White on the Colour: Printing by overlaying white toner on the C, M Y and K toner.
Print White Under the Colour: Printing by overlaying white toner under the C, M Y and K toner.
White Size Adjustment: Finely adjust the print size in white when printing in "Printing white under the colour." Enter the degree of shrinkage of white for other colours.
SPECIAL
Mirror Print: Printing by reversing the horizontal orientation.
Need Help?
For more instructions on these settings, try your Pro Series user guide. Or for help with your system contact your account manager or our customer service team.