This knowledge base article provides easy to follow details of Your Obligations as a registered number plate supplier. In short, you are required to keep compliant records. Detailing what you made and who you sold it to. And to ensure your number plates meet the British Standards.
Information on your obligations can be found in the sections below.
Record Keeping
One of the most important part of your obligations is record keeping. After all, number plates are a legally enforced item requiring due diligence be followed. In fact, before you supply number plates to anyone you must see proof of their identity and entitlement to the registration.
Recording proofs means actually viewing the original documents. No scans, images or copies, all these can be faked. And you need to record a reference or serial number off the documents they used. Furthermore, records of these proofs need keeping securely for at least three years.
Strict rules govern the type of documents that are acceptable as proof. For example, only the following types are acceptable:
Proof of Identity
Driving licence
Utility bill or council tax statement
Bank or building society statement
Valid passport
Credit or debit card
Police warrant card or an armed forces identity card
Foreign National Identity Card
Proof of Entitlement
Vehicle registration certificate – V5C
Keeper supplement of the registration certificate – V5C/2
Certificate of entitlement – V750
Retention document – V778
Vehicle licence renewal form – V11
Temporary registration certificate – V379
Authorisation certificate with an official stamp – V948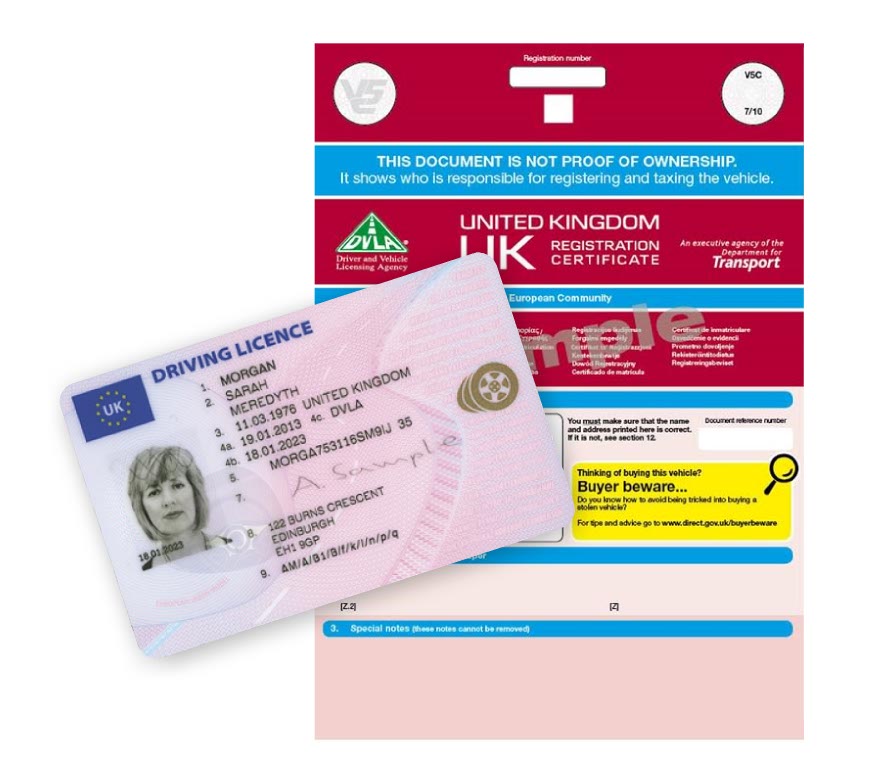 Data Protection Act
Your RNPS records need to be kept securely for at least 3 years. Access to them needs to be restricted, in line with the Data Protection Act. Keep electronic records and you'll have to register with the Office of the Information Commissioner, which includes an annual registration fee. If you keep paper records, then you are still expected to comply with the requirements of the Data Protection Act, but are not required to register or pay a fee.
The Police and local authorities can also enter your premises and request to view or copy your records. As a number plate supplier you're obligated to accommodate them. They can also inspect your number plates to ensure they meet standards. Or take your plates and components away for testing.
RNPS Log
Our number plate software comes with a built in RNPS Log, which you can use to store your plate and customer details. As a result, it will help you to create compliant records while you're actually making your number plates.


In short, this facility comes with sections ready built for record keeping. Such as the registration number, identity and entitlement proofs with the customer details. Instantly creating records that can be presented to the authorities on demand.
Plate Layout
Another part of your obligations is to ensure your plates display all elements needed to be legal. At the bare minimum it must have a registration, show the supplier with postcode and have a BS Number. And they all need placing and sizing correctly. Below you can see some details on the elements and their rules.
Plate Elements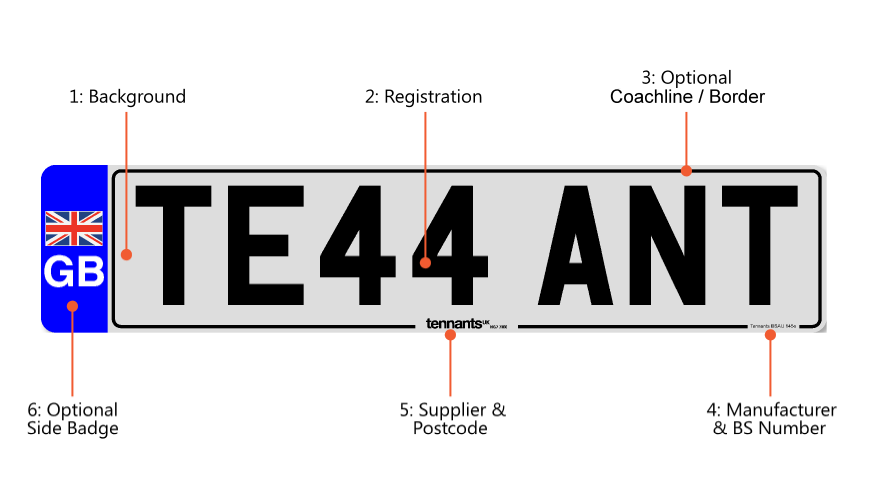 And by law your number plates must display certain Elements:
Plain White or Yellow reflective Background.
The Registration number or mark.
Suppliers Name & Postcode – your details.
Name of the Component Manufacturer – ours say Tennants.
The British Standard number – currently BSAU 145e
Optional plate elements include a border, side-badge & advertising lip.
Registration Number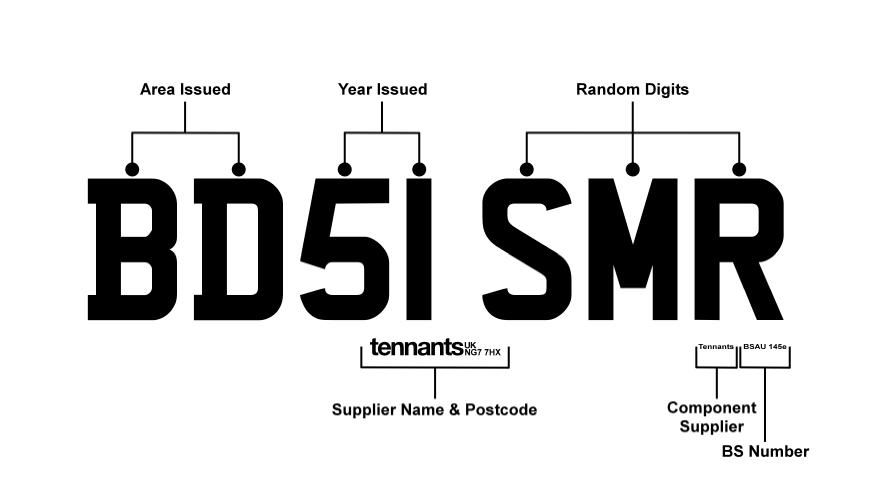 You must use the specified Registration Format* of:
Two Letters – indicating where it was first issued
Two Numbers – showing when it was issued
A Space – between year and the random letters
Three Letters – chosen at random
Note* Dependent on the vehicle the registration can be split onto two lines (4×4 & Motorbikes). Cherished and personal plates can be reduced digit registrations, with less than 7 digits.
Font Size & Type
At the present time there is just one legal font Charles Wright, which is easy to read and photograph. Strict rules govern the size of its characters and the space around them.
In brief, on a Standard Registration the characters should be 79mm high and 50mm wide. Each character should have a 14mm stroke width, and the space between digits must be 11mm. Four x Four Registrations can have the random digits on a second line, placed 19mm below the year issued digits.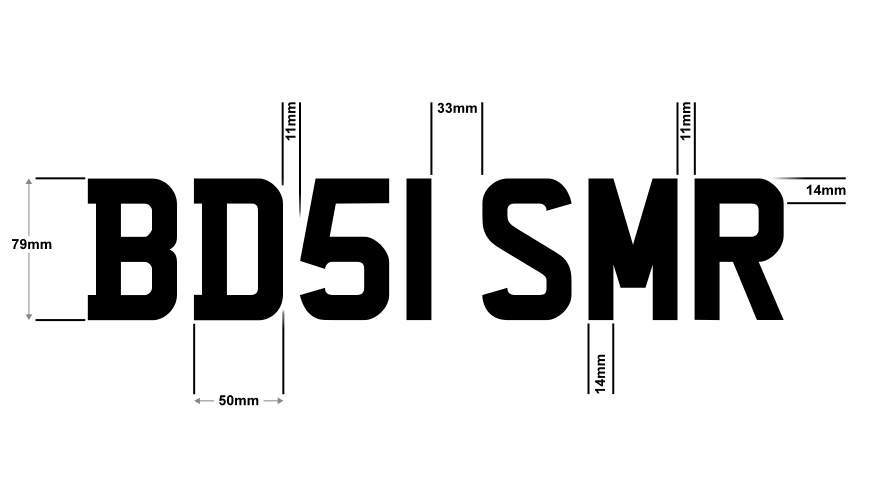 However the dimensions change for Motorcycle Registrations. Characters become 64mm high by 44mm wide. Each digit has a 10mm stroke width, and the space between them drops to 10mm. By default the 3 random digits are placed on their own line, 13mm below the year issued.
Regardless of the registration type, there needs to be a 11mm outer margin on all four sides. And a 7mm exclusion zone around the registration, into which nothing can intrude.
Supplier Identifier & BS Number
The supplier identifier, component manufacturer and BS number are all legally required elements. While the supplier identifier needs to be displayed centre-bottom of the plate. The manufacturer and BS number are placed bottom-right as required by law.
BSAU 145e tweaked the rules here to make it easier to read. Now it must be a single solid colour and at least 3mm high, but no more than 10mm. Moreover, any font can be used as long as it readable. And the details must be those registered.
Our Number Plate Software
As you have seen above, there are a lot of rules that govern the layout of a number plate. Our number plate software LG Plates, comes with a plate builder that applies these restrictions for you. It's streamlined to aid quick plate production, yet ensures compliance by default.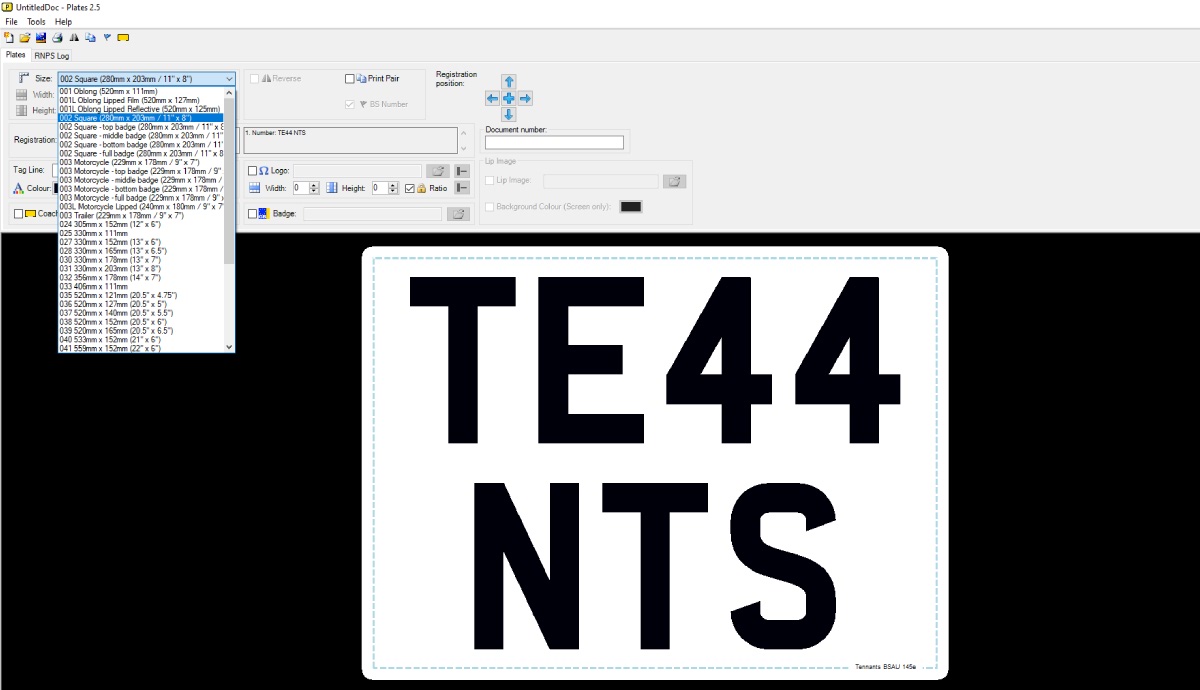 Templates based on size, control all the digits size and spacing for you. Additional features include bottom line text or logos and side badges. Validation checks also ensure the registration meets a recognised format. Incorrect digits will be identified, and an alert message pops-up when you try to print them. In addition it comes with complete versions of the legal typeface for cars and motorcycles.
Plate Standards
Alongside layout, your plates must be certified to the British Standard BSAU 145e. And thus meet all its requirements for visibility, strength and reflectivity. Because it's critical that your plates can be read by both humans and cameras and resist the UK weather and roads.



In total, a number plate is subjected to 10 different tests under the current standard. And it must pass each one before it gets certified and cleared for production. The cost of research and development for a number plate construction is considerable.  So instead of developing your own solution, you will need to find a provider – like Tennants.
For more detailed information on the British Standard & the Regulations, view our What Is a Legal Number Plate article.
Our Plate Components

Using Tennants as your provider will save you on the cost of set-up, development and certification. Our number plates have been tested and are Certified to the latest standard 145e. Which includes all our number plate components and our True 3D digits.
But remember to achieve compliance, all number plate suppliers are obliged to source equipment and supplies from a single provider. This is to ensure all elements of their supply is tested & certified to the current standard.
Report Changes
The final part of your obligations is to ensure any changes to your circumstances are reported to the DVLA within 28 days. This includes ceasing trading and changing or adding business locations.