Your Obligations as a Supplier
This knowledge base article provides easy to follow details of Your Obligations as a registered number plate supplier, covering record keeping and number plate standards.
In short, you are required to keep compliant records. Detailing what number plate you made and who you sold it to. Next up, you're also required to ensure your number plates meet specific standards. Which cover the plate layout, visibility, strength and reflectivity, all of which increase road safety.
More detailed information on your obligations can be found in the sections below.
One of the most important part of your obligations is record keeping. After all, number plates are a legally enforced item requiring due diligence be followed. In fact, before you supply number plates to anyone you must see proof of their identity and entitlement to the registration.
Recording proofs means actually viewing the original documents. No scans, images or copies, all these can be faked. And you need to record a reference or serial number off the documents they used. Further more, records of these proofs need keeping securely for at least three years.
Strict rules govern the type of documents that are acceptable as proof. For example, only the following types are acceptable:
Driving licence
Utility bill or council tax statement
Bank or building society statement
Valid passport
Credit or debit card
Police warrant card or an armed forces identity card
Foreign National Identity Card
Vehicle registration certificate – V5C
Keeper supplement of the registration certificate – V5C/2
Certificate of entitlement – V750
Retention document – V778
Vehicle licence renewal form – V11
Temporary registration certificate – V379
Authorisation certificate with an official stamp – V948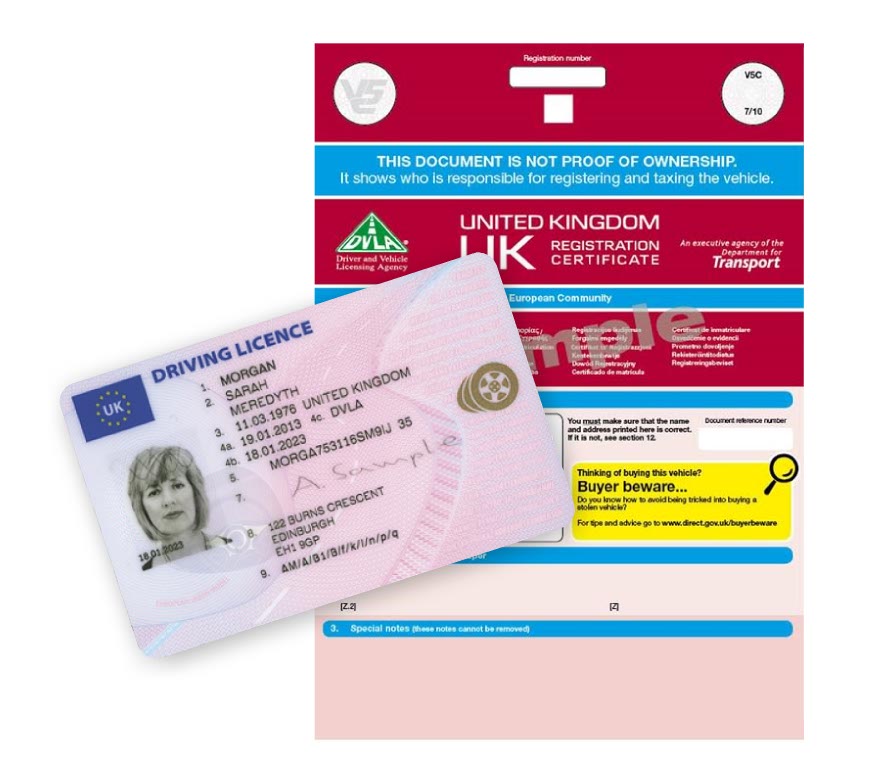 Your RNPS records need to be kept securely for at least 3 years. Access to them needs to be restricted, in line with the Data Protection Act. Keep electronic records and you'll have to register with the Office of the Information Commissioner, which includes an annual registration fee. If you keep paper records, then you are still expected to comply with the requirements of the Data Protection Act, but are not required to register or pay a fee.
The Police and local authorities can also enter your premises and request to view or copy your records. As a number plate supplier you're obligated to accommodate them. They can also inspect your number plates to ensure they meet standards. Or take your plates and components away for testing.
Our number plate software comes with a built in RNPS Log, which you can used to store your plate and customer details. As a result, it will help you to create compliant records while you're actually making your number plates.


In short, this facility comes with sections ready built for record keeping. Such as the registration number, identity and entitlement proofs with the customer details. Instantly creating records that can presented to the authorities on demand.
Another important part of your obligations as a supplier, is to ensure all your number plates meet the standards and regulations. These are rules that govern the plates typeface, size, colour and layout. Together with the physical characteristics and what is actually allowed on a plate. Below you can see images showing the number plate formats and what elements are allowed.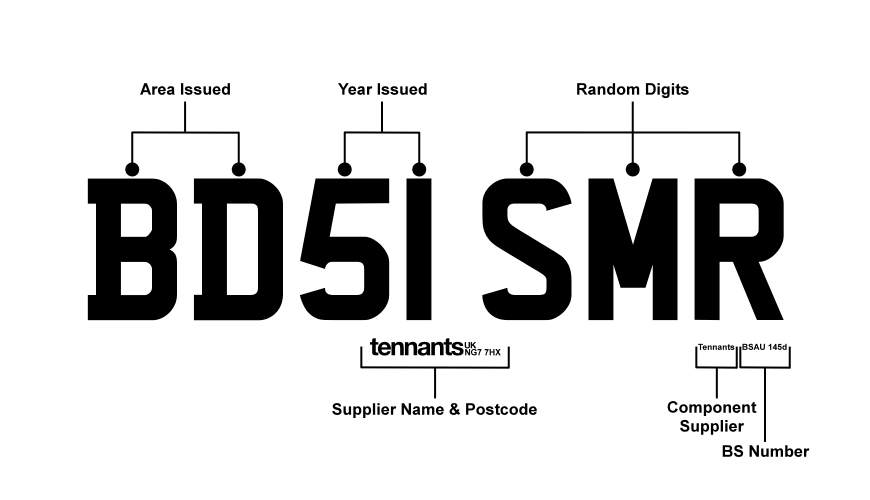 By law your number plates must display certain Details:
The Registration number or mark
The British Standard number – currently BSAU 145d
Name of the component supplier – ours say Tennants
Suppliers Name & Postcode – your details
And use a current Format of:
Two Letters – indicating where it was first issued
Two Numbers – showing when it was issued
A Space – between year and the random letters
Three Letters – chosen at random
Dependent on the vehicle, the registration number can be split onto two lines. Such as on four by four cars and motorbikes. And as a supplier, you can't rearrange or misrepresent a registration number, or make the font difficult to read.
At the present time there is a single Standard Font, which is easy to read and photograph. Strict rules govern the size of the fonts characters and the spacing around them. In brief, on a Oblong number plate characters should be 79mm high and 50mm wide. Each character should have a 14mm stroke width, and the space between digits must be 11mm.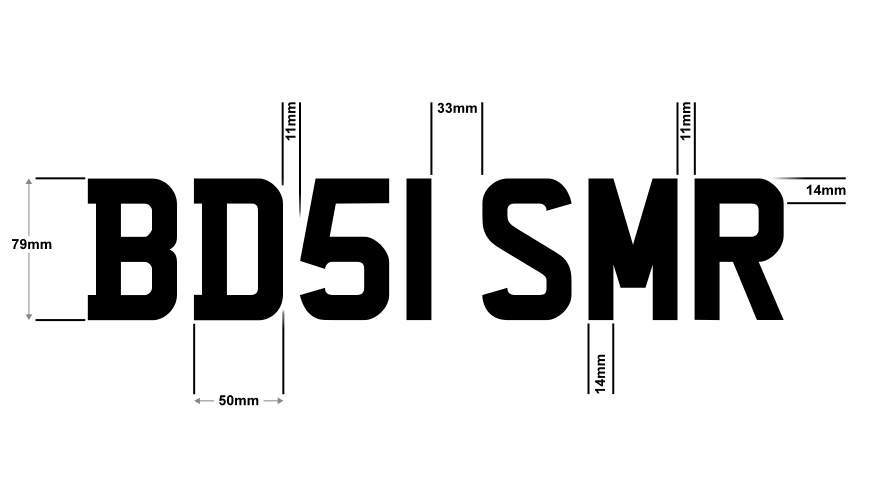 Four by four vehicles can have their random digits on a second line, placed 19mm below the year issued digits. Regardless of the plate type, there needs to be a 11mm outer margin on all four sides. And a 5mm gap around the registration number, into which nothing can intrude.
However these dimensions change for Motorcycle and Tricycle number plates. Characters become 64mm high by 44mm wide. Each digit should have a 10mm stroke width, with the space between them changing to 10mm. However the biggest change is the switch to two line plates. Now the random digits are placed on their own line, 13mm below the year issued.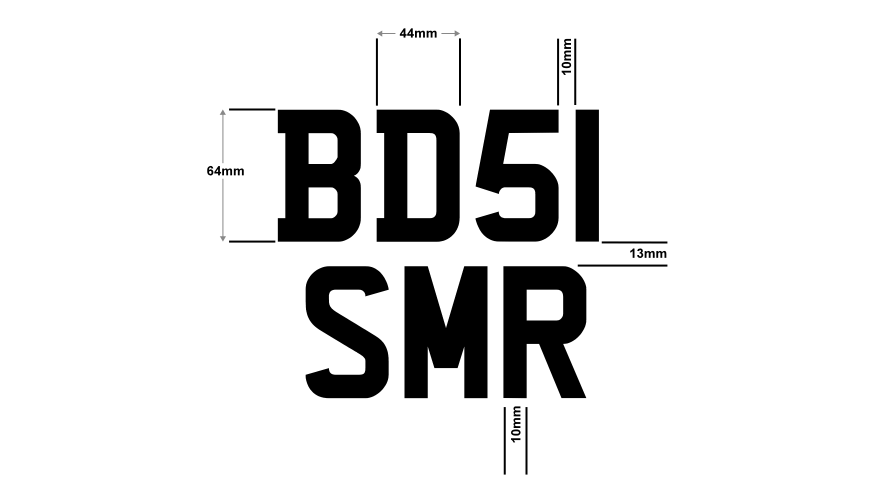 Left hand side badges and flags are also governed by these regulations, such as the Euro GB. The Euro GB badge has to meet EC Council regulations which state:
It must be at least 98mm Tall
And be between 40 and 5mm Wide
The background must be Reflective Blue
The Yellow stars and the GB must also be Reflective
But the GB can be White or Yellow
However, your number plates can display a selection of national flags and identifiers instead. The flag still needs to be placed above the identifier. And neither can be more than 50mm wide. Below is a selection of acceptable types.


National Flags:
Union Flag
Cross of St George
Cross of St Andrew – the Saltire
The Red Dragon of Wales
National Identifiers:
GREAT BRITAIN, Great Britain or GB
UNITED KINGDOM, United Kingdom or UK
ENGLAND, England, ENG or Eng
SCOTLAND, Scotland, SCO or Sco
CYMRU, Cymru, CYM or Cym
WALES or Wales
The rules and regulations on number plates are subject to change with new standards or after Brexit.
As you have seen, there are a lot of rules that govern the layout of a number plate. Our number plate software LG Plates, comes with a plate builder that applies these restrictions for you. It's streamlined to aid quick plate production, yet ensures compliance by default.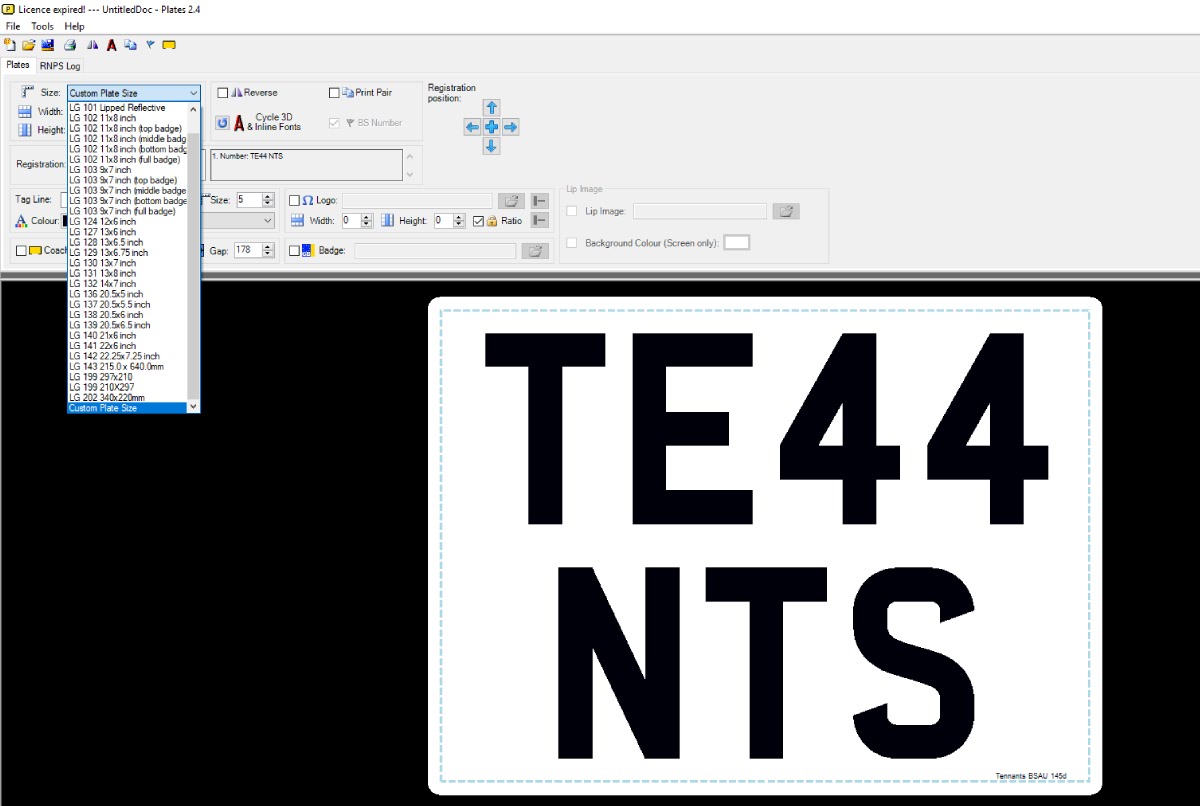 Templates based on size, control all the digits size and spacing for you. Additional features include bottom line logos and side badges and flags. Validation checks also ensure the registration meets a recognised format. Incorrect digits will be identified, and an alert message pops-up when you try to print them. Further more it provides a selection of compliant fonts based on the standard typeface.
The number plate is classed as a identity item, as a result they are government regulated. Part of that regulation is the British Standard. This sets out the physical characteristics of the number plate. In essence, this includes the number plates visibility, strength and reflectivity. Your obligations include making sure your number plates meet these regulations.
It's critical that your plates can be read by both humans and cameras. For this reason alone most of the rules exist. Number plates have black digits on an opaque, reflective background. White plates for the front of a vehicle and yellow plates on the rear.


The background and digit colours help with readability, by showing a clear difference between the two. The reflective background is actually retroreflective. Which is different to standard reflection because it reflects light back in the same direction in came. A key safety feature, that increases visibility in varying conditions.
Another part of the standard covers the number plate's durability. This is critical in ensuring they can resist the UK weather and roads over time. Now days most number plates are printed and assembled together from various components. Unless you're a manufacturer, a third party will supply your components. These will be offered as specific matched combinations, which make compliant plates when assembled.
We offer a choice on the type of our components you use to make number plates. Both are fully tested and certified to show they make standards compliant plates. But our certification only covers specific matched combinations, using anything else just won't be legal.
You could choose to make Standard 2-Part Number Plates, our take on the industry standard hence the name. Here you make a plate by matching a printed reflective backing with a clear acrylic face. This makes a simple and reliable number plate using just two components.



Otherwise you can choose to make our Hybrid 3-Part Number Plates. These are produced using three matched components, combined together to create a vibrant and durable plate.
Hybrid plates are made using printed clear film, which you sandwich between a reflective backing and a clear acrylic face. As a result of using clear film, you gain the ability to supply affordable colour number plates.


But to guarantee compliance, our components must be used with our number plate printing equipment. This is because our certification is for plates made using our components and printers.
To put it another way, as our customer we allow you to use our certification for your number plates. But only if you're using our matched components and printer equipment. Stop buying from us, or stop using our matched components and your plates won't be covered by our certification. And that will affect your plates legality and your obligations.
Final part of your obligations is to ensure any changes to your circumstances are reported to the DVLA within 28 days. This includes ceasing trading and changing or adding locations.